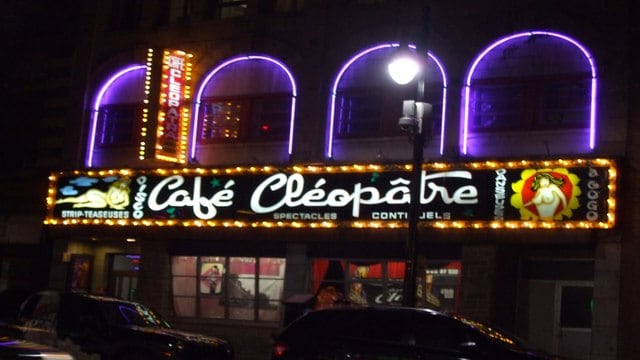 Address:
1230 Boulevard Saint-Laurent,
Montreal, QC H2X 1K4
Canada
Call for reservations:
Toll-Free: 1-866-847-6859
Café Cléopatre – Cafe Cleopatra
You never know what to expect when heading to Cleopatra's. Very seedy joint, if you like that. Some nights there is a cabaret show, other nights it's a standard strip club. The term 'stripper graveyard' was coined for Cleopatre.
GROUND FLOOR
Are you looking for Montreal's best strip club? Look no further than Café Cléopâtra. Located in the heart of the city, Café Cléopâtra is one of the longest-running and most established strip clubs our city has to offer. With over 30 years of experience at the top of the adult entertainment scene, we boast a wide variety of girls from all over the world, each distinctive in their good looks, glamour and style.
Open 7 days/nights a week, you can find between 30 and 50 of the most sensual and captivating women Montreal has to offer, day or night. For a more intimate experience, private booths are offered with your choice of an erotic dancer. Let these beautiful women charm you to the sounds of sensual music while enjoying your choice of a wide variety of alcoholic drinks.
SECOND FLOOR
The second floor of Café Cléopâtra houses one of Montreal's oldest cabaret stages and has been the home to vaudeville, burlesque, and drag shows for the last a century We currently host a variety of our city's most popular events and festivals such as the Just for Laughs Festival, Montreal Fetish Weekend, Naked Karaoke, Le Festival SPASM, Glam Gam Productions, Candyass Cabaret, and many others. Our venue and its unique ambiance is the perfect spot for a wide range of occasions such as corporate events, movie shoots, comedy shows, theatre, concerts, movie screenings, etc. Please check our calendar often for upcoming events or ask us about booking our historic venue for your event.
Call for reservations:
Toll-Free: 1-866-847-6859